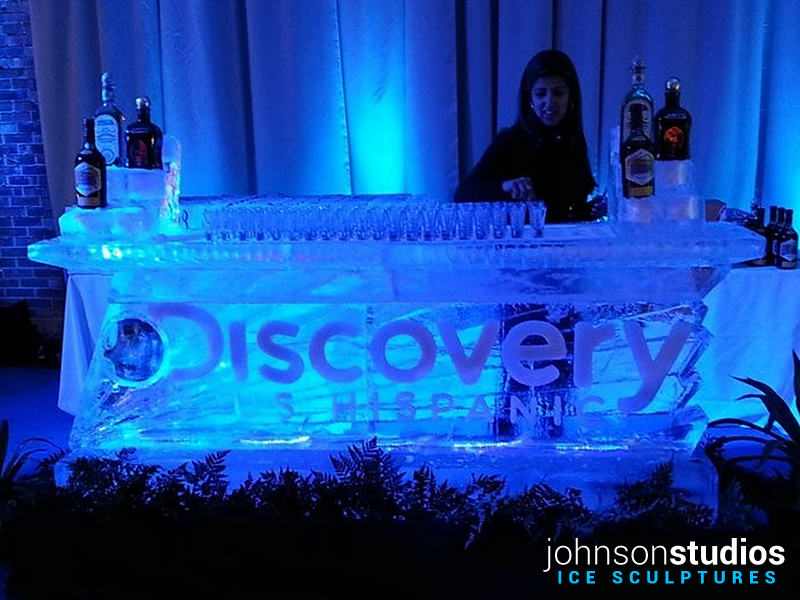 Discovery Ice Bar Chicago Sculpture Carving
Discovery Ice Bar Chicago Sculpture Carving was created for a special indoor event in downtown Chicago. The Discovery Ice Bar Chicago Sculpture Carving size equaled approximately 8 feet by 7 feet. It can hold drinking beverages and used by bartenders instead of a standard bar.
About Ice Bars – An ice bar, sometimes associated with an ice hotel is a drinking establishment primarily made of ice. The bars usually contain ice sculptures and other formations and are kept at low temperatures (generally about -5 °C) to hinder melting. The walls and seating are also usually made of ice. Mostly a novelty, the ice bar is often considered a tourist destination. Visitors enter for timed stays and even staff work on time-limited shifts. The most popular drinks served at ice bars are ice-cold vodka shots, or cocktails mixing vodka with a berry puree.
Ice Bars Become Cool Way to Enjoy Winter
There's no question that part of the ice-bar phenomenon is owed to the idea that people are looking for things to do at this time of the year. The days are beginning to get a little longer and the light a little brighter, and people seem ready to shake off the winter blues and begin the de-hibernation process.
Discovery
Ice Bar
Ice Sculpture
Johnson Studios Ice Sculptures Chicago Studio
Logo
Luge