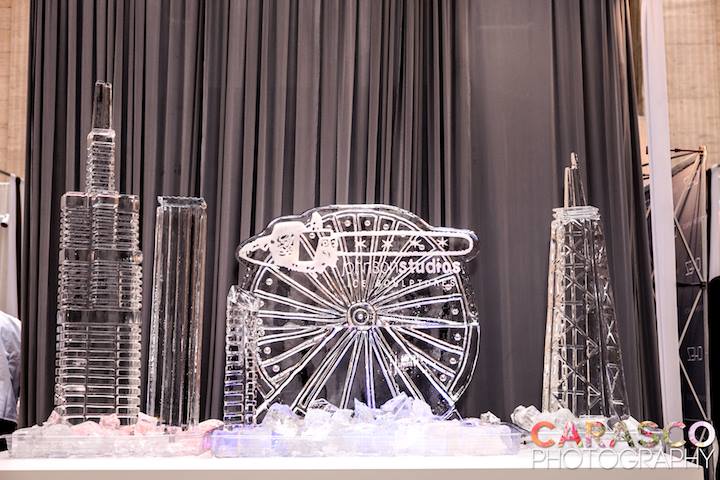 Brides Bubbles & Bliss Chicago Wedding Ice Sculpture
Johnson Studios Ice Sculptures had the pleasure of carving the Brides Bubbles and Bliss Chicago Wedding Ice Sculpture. The ice sculptures featured the Chicago's Willis Tower, John Hancock and the Navy Pier ferris wheel for the 2014 Brides Bubbles and Bliss bridal wedding event.
Brides Bubbles and Bliss is an online blogazine that features the high fashion, bridal and lifestyle inspiration. It first launched as an annual bridal event in 2009 & has grown to be the Midwest's not-to-miss bridal event of the year, a beautifully curated production providing endless informative inspiration for brides, grooms, & industry insiders.
"We think we can all agree, we've had enough of the cold, but what if we could turn this treacherous element into a beautiful piece of art to be displayed on your special day? Well Johnson Studios Ice Sculpture has been making ice look nice since the late 90′s. Whether you're looking for a tribute to your favorite New York sculpture or you've been dying to have a martini luge, Nate Johnson is your man! See more icy art at Brides Bubbles & Bliss 2014, March 26th 6-9 at Chicago Union Station, The Great Hall." – Brides Bubbles and Bliss
Brides Bubbles & Bliss
Chicago
City Landmark
City Skyline
Ferris Wheel
Ice Sculpture
Illinois
John Hancock
Johnson Studios Ice Sculptures Chicago Studio
Navy Pier
Wedding