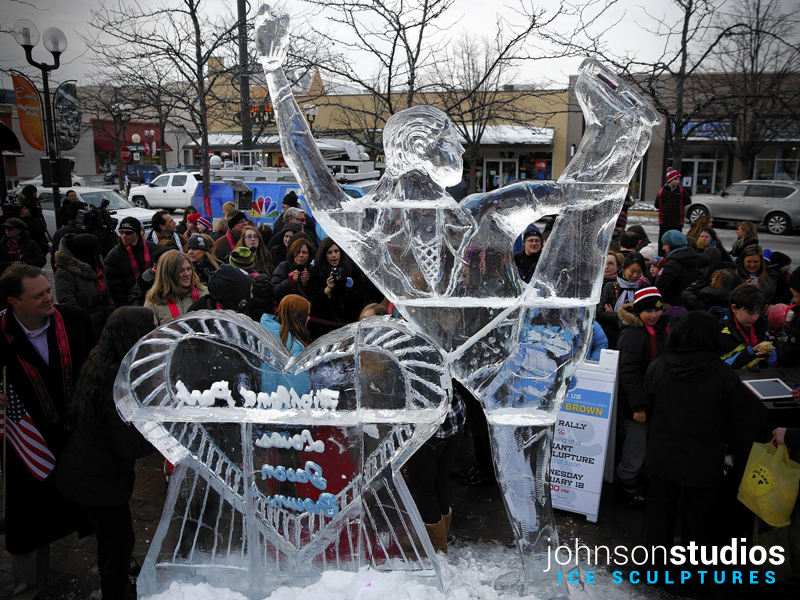 Sochi Olympic Figure Skater Jason Brown Ice Sculpture
Johnson Studios Ice Sculptures had the wonderful opportunity to carve the Sochi Olympic Figure Skater Jason Brown Ice Sculpture. The 10-foot ice sculpture was featured in the pep rally for Jason Brown in downtown Highland Park, IL, a suburb of Chicago.
The Sochi Olympic Figure Skater Jason Brown Ice Sculpture was featured in the media worldwide.
 "The 10-foot display of ponytail figure skater is quite a sight. At first look it is extremely obvious that this is Jason Brown and it even appears that the pose was taken when the athlete was in Sochi skating." – Examiner
"Kristopher Duschen, of Johnson Studios Ice Sculptures, said he didn't know much about figure skating before receiving the order Friday for the sculpture, the kind of project that's typically ordered a month ahead of time. Duschen flew into "emergency-style" work mode and finished about 3 a.m. Wednesday." – Chicago Tribune
"A 10-foot ice replica that even includes Brown's signature ponytail, was unveiled Wednesday in Port Clinton Square to a cheering crowd that included the Olympian's family, friends, skate instructors and members of Highland Park Skate Club, where Jason began figure skating at a young age." – NBC Chicago
Jason Brown is an American figure skater. He is the 2013 Trophée Eric Bompard bronze medalist, 2013 Nebelhorn Trophy silver medalist, and 2014 U.S. national silver medalist. Brown is also a two-time World Junior medalist (2013 silver, 2012 bronze), the 2011 JGP Final champion, and the 2010 U.S. national junior champion. He won a bronze medal in the team event at the 2014 Winter Olympics in Sochi.
Illinois
Jason Brown
Sochi Olympics
Sports
Winter